YARD LETTERS RESOURCES
We want to help you get your yard letter business started.
How Do I Even Start My OWN Business?
If you are looking to start your own yard letter rental business, then one important component that you need to begin is an inventory of various letters and symbols. One of the main goals of a yard letter rental company is to host multiple rentals at once so that you can make back your investment as quickly as possible. To do this, we recommend you take a look at our 'starter kits'. These have been created to allow you to build several different popular displays while customizing each set up to fit the specific needs of that customer.
Aside from your inventory, you will also need to do some marketing as a way to get your business name out there. Some free and easy suggested ways to do this are: word of mouth, social media posts, and the FB Marketplace.
Lastly, you will need a business license. There are resources available online and from each states .gov website to assist you with this. Note: you do not need to have a business license to purchase any of our starter kits, products or bundles.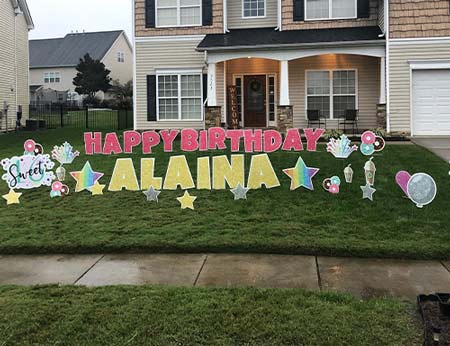 Symbols are a great way to create dimension and add a personal touch to all your events.
What is the time commitment to running a yard letter business?
The great thing about starting your own yard letter rental business is that you set your own schedule and create your own time commitment. It is an ideal business model for those that want to start slow and work on the evenings and weekends but it can easily grow into a full-time business venture. You may even decide to build your own franchise. When you purchase a starter kit package you will be added to our rental partner page to help with additional exposure.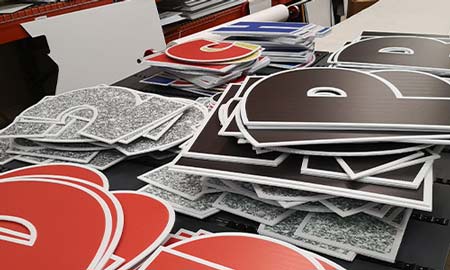 Symbols are a great way to create dimension and add a personal touch to all your events.
Starter Kits
Starter Kits were created to allow you to build different displays while customizing each set up. We recommend this option if you are interested in starting a business without the hassle of owning a franchise.
Sets
Our sets are great for special events or if you want to test what it is like owning your own business. You may also be interested in our bundles when adding new phrases or themes to your the inventory.
Income Potential
Listed below is the income potential for a Yard Greeting Rental Business. Whether you're working part-time renting out 3 per week or working full-time renting out up to 24+ per week, Yard Letter Business is a worthwhile investment with amazing potential! The Chart listed below is based on an average price of $100 per rental:
Set Your Own Pricing
You are your own boss so you can be flexible with your pricing. We recommend looking around at your competition, the location, and the demand for these products. Keep in mind you can offer higher price points for custom setups. As you grow your business and gain experience you may need to adjust the pricing as you go.
Interested in a custom package?
We do understand that you may want to customize a package by swapping out some items for others. There is an additional fee for customization, so we ask that you contact us to discuss your options and pricing.
Marketing is Essential
Take a look at some of our marketing tips when starting a yard letters business company.
TIP #1
Social Media Presence
Be sure to have multiple social media platforms to ensure you have a variety of outlets to draw in new clients. We recommend sharing and posting to your personal account to have your current followers connect with your new business.
TIP #2
Build your Brand
Be sure clients recognize you by your logo, social media, and your style. Building a uniform brand will help clients remember your company and help spread the word to others. Using a unique name and style will also help you with repeat clients.
TIP #3
Plenty of Visuals
Be sure to include a gallery on your website and social media. This is the best way for your customers to know the setup options and the unique styles you offer. To get started we recommend doing sample setups to help with setup practice and when building your gallery.
Yard Letter FAQ's
Visit our Frequently Asked Questions to see what other clients were asking.