Why start a yard letter business?
Yard sign messages are the ideal way to spread cheer, celebrate loved ones, and make memorable moments for all to see. Be your own boss! We have packages and resources to help you start your own lawn sign rental company. No franchise fees or royalties. You set your pricing, your rules, your territory, and your rental options. Choose from our wide selection of over 500 decorations, including holiday bundles, special events, hobbies and interests, and yard letter sets!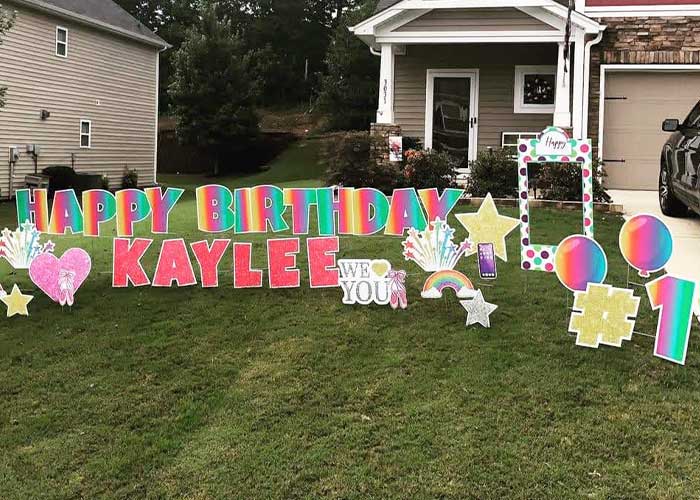 Fast Printing Turnaround
We offer 1-3 production time. Allowing you to get your order so you can make a profit sooner.
Our customizable packages have preselected items with customizable color/pattern options making for coordinated setups. This package gives you the option to build it your way. We recommend these if you are looking to test the waters of starting a business.
Our Business Starter Kits were created to allow you to create a variety of displays while preselected items make for easy mix and match items. We recommend if you are interested in starting a business without the hassle of owning a franchise.
Income Potential
Listed below is the income potential for a Yard Greeting Rental Business. Whether you're working part-time renting out 3 per week or working full-time renting out up to 24+ per week, Yard Letter Business is a worthwhile investment with amazing potential! The Chart listed below is based on an average price of $100 per rental:
Need Financing?
Don't wait any longer to get started creating and building your business. See if you qualify for PayPal credit.
Pricing for Every Budget
We offer many different options to fit your budget. These items are great for special events or if you want to test what it is like owning your own business. You may also be interested in our bundles when adding new phrases or themes to your inventory.
Customizing your Inventory
We have over 1000+ designs for you to customize your inventory. We have new products and graphics to match your style, events and clients. Ask about our custom design services!
"I have taken a while to leave this review but it is only because I have so many great things to say about Chantel and her team at Deadline Signs. I looked into their full package services as I began to explore a new small business and I could not have been any luckier! Chantel has dedicated time and energy to helping me every single step of the way with frequent and timely responses every single time! Her team created beautiful products for me and even went out of their way to help me with specific designs only to turn out incredible results. Their turn around time from printing to shipping truly will meet any deadline and you will be very happy with the final products you receive! They also …."
Fairy YardMother
"The team was very helpful in suggesting which signs to start with and also with arranging pick up of my signs."
Yard Surprises
"Great product! Customer service (Chantel and Skyler) was timely, friendly and helpful. Thanks again for the assistance with the yard letter package!"
Sherita Howard, ABA Yard Signs
"Chantel and Skyler held my hand as I ventured out to start my own lawn sign rental company in Charlotte, NC. She worked with me to create one of a kind signs that helps my business stand out! Deadline signs are able to design, create and print graphics quickly, as they print on site! The quality is top notch and the service is amazing! I look forward to a continued partnership with this company as we both grow!"
Jodie Whittington, Yard Art Signs Charlotte
"Skyler has great customer services. They are quick with orders and the quality is great. Over all id give them A+"
Shantel Jackson, Kenny. K Yard Display
No Franchise Fees Or Royalties!
No franchise or monthly fees to take away from your profit. You set your pricing.
No Territory Restrictions
You can be your own boss with no territory restrictions or parent company overhead.
Behind the Scenes
Take a look at some of our staff behind the scenes of making your yard letter business come together.
How do I get my business name out there?
Marketing is an essential part of starting a business. We want to make sure your business name is out there for others to see. Check out our top 3 marketing tips to help you when starting a yard letter business.
Need help designing a logo for your company?
Our parent company Two Minds Group offers design services such as logo design and business card designs.
CONTACT US
Got a question? We'd love to hear from you. Send us a message and we'll respond as soon as possible.